Why are User-Generated Content Campaigns so popular for advertisers right now? In this article we'll explore how UGC campaigns are being used in digital advertising and share some of the pros and cons of managing a UGC campaign.
We get asked all the time – what is a UGC campaign, how is it different from Influencer Marketing, and why should I use it? 
Influencer Marketing simply refers to promotional content for brands that is created by an individual with a social following, and then distributed to that following in a way that feels organic to them.
UGC style ads – or User Generated Content is promotional content for brands that is not designed to be distributed to the users' following. These pieces of content gain impressions through ad spend rather than the organic reach of influencer campaigns. As UGC does not rely on a user's following, this means content created by regular consumers, employees, or even small creators can all be considered UGC.
Where does content for UGC campaigns come from?
User Generated Content can come from various channels and individuals depending on how the brand plans to repurpose it. 
Customers: 
A brand may want to show real customers sharing their experiences through unboxings, recommendations, and reviews. Great UGC-style ad examples include brands like LUSH, who boosted site traffic by 43% using UGC, or Doritos, who leveraged UGC during the Super Bowl to gain share of voice.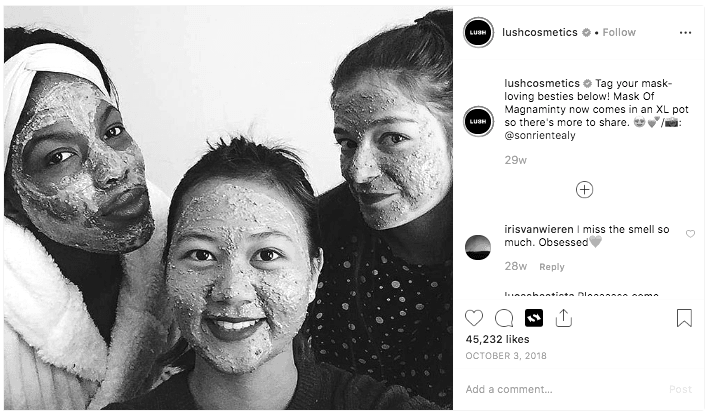 These authentic user perspectives serve as powerful social proof and influence others in their purchasing decisions, and this type of content usually can either be used for free or for an extremely low cost. However, customers typically won't have the same tools, resources and camera presence that dedicated content creators have.
Creators:
Content creators are also a great source for your UGC campaign. These creators are sponsored in some way – either by being gifted the product by the brand for an honest review, or paid by the brand to create an organic-looking ad. 
The creator produces the asset directly for the brand to post. This means that you can work with traditional Influencers to create UGC, but they won't post to their social organically. This is a great way to reduce costs as you're only paying for the content itself, not for the exposure to their audience. 
There is a steadily growing an ecosystem of small UGC creators who don't have a large social following, but possess all the skills and tools needed to produce effective assets for your brand to use on social.
Employees:
Lastly, UGC can also come directly from employees, often in the form of sharing behind-the-scenes content or creating videos showcasing their favorite ways to use the products. 
As employees have a deep relationship with a brand to and excellent  knowledge of the product or service, employee UGC is a incredibly effective way to add value to your marketing. In fact, research indicates that content shared by employees can result in double post engagement compared to other sources.
What are the Pros and Cons of UGC Campaigns?
Pros of UGC Campaigns:
Cost-Efficient Content:

UGC is an incredible way to significantly boost the amount of content your team has to use in organic and paid social. UGC tends to be much less expensive than Influencer Marketing, this can be done for a relatively low cost. 
Output Control:

UGC creators aren't promoting to their own audience, brands tend to have a lot more control over what the final product looks like. 
Quick Turnarounds:

You may also find that UGC content can be compiled much more quickly. For instance, there are

real

consumers who are reviewing your brand on social media right now. The content is out there – it's just up to the brand to collect it and come to an agreement with the creator to use it. Which brings us to the challenges…
Challenges of UGC Campaigns:
Time intensive:

While activating UGC is much faster, collecting it can be time consuming, and can take a significant amount of effort from your team to source the right kinds of content that align with your brand's tone of voice.
Developing Strategy:

Like any other ad campaign, there needs to be a strategy in place for how UGC will be best used & tested. Which objectives it's most likely to achieve, which platforms it's best suited for, the amount of UGC you want to test. Many brands use performance marketing agencies to ensure they're extracting the highest return on investment for UGC content and making it work its hardest for them.
UGC Campaign Impact & Client Example
Let's explore how we used UGC for our client, Andrew Martin, to boost return on investment by 30%.
Andrew Martin is one of the UK's largest designer furniture and home accessory shops, so we're always testing new e-comm strategies for them. In this case, we had previously tested Influencer Marketing and we wanted to explore testing a UGC based ad campaign.
Knowing that Andrew Martin has a large consumer base of professionals – including interior designers, trade customers, hotels, etc – we started finding buyers within this space who were 1) frequently purchasing Andrew Martin products, and 2) had the capability to take gorgeous, high-quality images of the products. 
After sourcing images from these consumers we then paired this with our top-performing DR copy, which includes things like reference to utilizing texture, print, and colour, and the overall style or theme of the design. Then, we launched conversion ads featuring the fierce pair of creative and copy we had sourced.
The result? We ended up seeing ROAS 30% higher than our standard ads, and even 14% higher than our influencer ads we had previously tested!
Want to test UGC ad campaigns?
User Generated Content offers brands a powerful marketing tool and provides authentic social proof at a lower cost. Whether sourced from real customers, content creators, or employees, UGC serves as a valuable asset for brands seeking to connect with their audience and enhance their marketing efforts. 
To learn more about how to effectively leverage UGC, reach out to our team for a chat below.