What is a User-Generated Content Campaign?
If you're like many of the brands we speak to, you may be wondering how and when you can use User-Generated Content for performance marketing – especially as conversations around Influencer Marketing become more and more prominent. 
Unlike traditional Influencer marketing, User-Generated Content ads, or UGC,  take a different approach by not being limited to distribution within users' followings. Instead, they thrive on targeted ad spend, bypassing the constraints of organic reach seen in influencer campaigns. Still, in both types of marketing, product users play a critical role in demonstrating how, why, when and where they use a brand. And still, in both types of marketing, consumers tend to find more credibility than they do in brands' own in-house ads. 
The essence of User-Generated campaigns lies in its authenticity, shining a spotlight on content not just created by influencers, but also by ordinary consumers, dedicated employees, and up-and-coming or even well-established creators. This inclusive approach to brand storytelling enables a diverse range of voices to contribute to the narrative.
Because UGC doesn't rely on distribution to a following, User-Generated Content creators can really be anyone:
Large and Small Creators:

  Many brands opt to use new creators who produce high-quality content, or even seasoned creators who will charge a lower fee to pass off the asset to the brand without posting to their own social. 

Employees:

Employees make great UGC creators for the brand as they tend to know the product inside and out
Consumers: There are few people more credible than a paying customer who genuinely loves your product so much that they're talking about it on the internet. As such, consumers are a common pool from which brands pull UGC. 
User-Generated Content for Advertising
Typically, because UGC isn't distributed to the creator's following, brands have a lot more control over what is said and how the message is delivered. Think of it like hiring an actor who is reading from a script for your production.
While many brands become excited at this fact, we should remind you that there are pros and cons of this:
Pros:  
Messaging can be designed to align with ads best practices

Brands have a higher level of control over exactly how the brand is being portrayed

There will potentially be less back and forth than Influencer Marketing, where edits may need to be made to the Influencer's work
Cons: 
You don't get to capitalize on the consumer or creator's fresh perspective

You're likely going to be creating an ad that is similar to things you've created before

The ad may sound less authentic, as consumers are typically very good at hearing branded, sales language vs a genuine review
User-Generated Content Best Practices
The Hook:

Attention spans on social media are short, so you'll typically have around 2.5 seconds to capture the attention of the viewer.

 Most video content that does well offers some kind of value – whether that be educational, clever wit, humor, strong emotional response, etc. Ensure that your audience knows what they'll be getting

immediately

when your video starts playing.
How can you do this? Use text overlays, text-to-voice where possible, or spoken word regarding exactly what the viewer is getting out of the video

:

 Here's a foolproof way to wash your jeans so that they don't fade over time"   

Get ready for a date night with me

Watch me turn my boring living room into a minimalistic dream

Browse TikTok's

Creative Center

to find your favorite hooks, then tailor the best ones to your brands. You may find that some of these leave some mystery to the viewer instead of putting all the cards on the table:

This one product has changed my life

I can't stop getting compliments because of this one thing I changed in my makeup routine

If you're having trouble sleeping at night, you're going to want to watch to the end of this video
Keep People Engaged

. This could be by creating snappy, concise videos with quick transitions, or by using slow, soothing energy. Watch time is a huge indicator of how relevant your video is to social algorithms, so the longer you can get someone to stick around, the better.

A great editing tool is Capcut – it's basic enough for anyone to use and has a ton of great (and viral!) templates to use
Best Format:

Create your videos in the correct format (depending on platform) for full screen viewing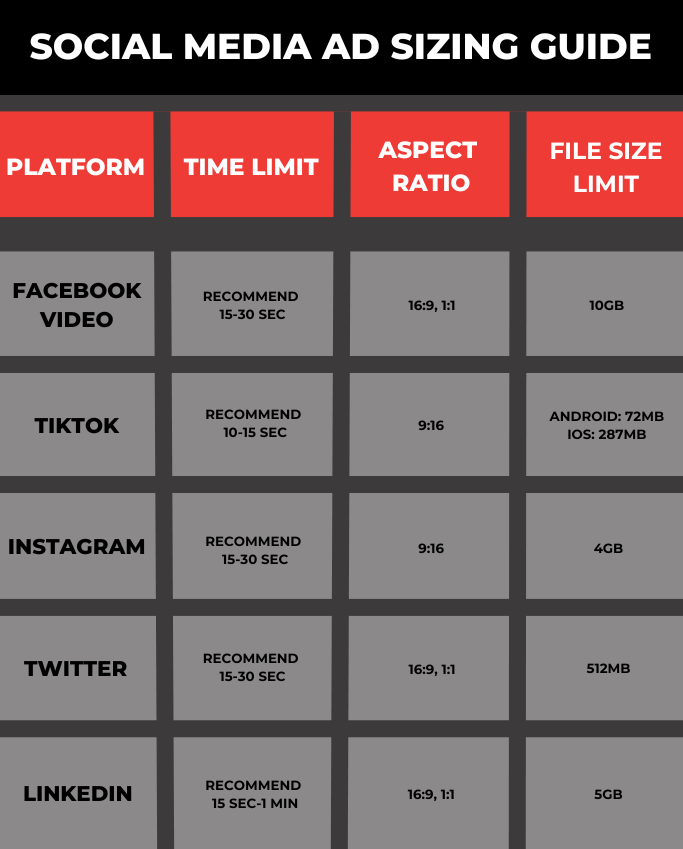 Audio:

Sound is super important – especially on Tiktok, since the platform opens with sound-on. But, not all platforms are designed to open with audio immediately playing (like Instagram, which turns audio off each session until the user toggles it on).

This means it's critical you plan for both scenarios – audio should be taken full advantage of (using commercial-compliant music, using audio hooks, etc), but captions and onscreen text or iconography should also be used to help tell the story for those watching and not listening
In-View Text:

Center text and videos around ad 'safe zones' to ensure none of your text is getting cut off by the edges of the phone or by platform buttons. You can use online preview tools in meta and

tiktok

to guide you. There is nothing worse than trying to work out what the on screen text says hidden behind profile usernames and video captions.
Saves and Shares:

These two metrics are also some of the most prized by platforms to understand content relatability, so if you can boost these two actions, your video will have higher favorability with the algorithm.




How can you do this? Many users are on social media for entertainment, so comedy or relatability is a great way to get viewers to share your video. Educational content is also extremely shareable; if you can teach your audience something, you make it more likely that they'll save the video to reference later when they need it. You can also deliver extra value to your audience by providing unique tools, offers and discounts, which users are more likely to save until they need it, or share with a friend who may want it.
CTA:

As with any social posting, a clear call to action is important – regardless of what your KPI is. 




If you want sales, ensure you're ending your video with an offer:

Click below to get 50% off,

or

I love saving you guys money, so get 25% off using my code.

If you're just looking for awareness and consideration, encourage users to take algorithm-boosting actions:

I can't believe I'm giving away this secret, but you can find out more at (your website).

Or,

Stitch me and recreate this look – I want to see what you come up with!

For more examples, see this excellent guide from

HubSpot
Need help creating UGC content? Contact our friendly team below for help in sourcing UGC creators, designing scripts, and developing paid media plans to best boost your ROI. Just fill in the form below or contact [email protected]